Welcome
About us
Travel tips
FOR
BOOKING
AND
INFORMATION
Contact us!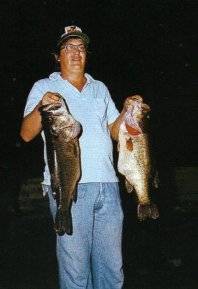 Freshwater fishing locations
---
Maspotón Reserve, Pinar del Río
In Maspotón it is possible to fish at the mouth of the Carraguao or Los Palacios rivers, which teem with species such as tarpon, bass, barracuda, liseta, and others. Fishermen will discover the best natural conditions under which to enjoy their favorite sport. There's also freshwater fishing in a nearby reservoir called Juventud. Large-mouth bass and tarpon are easy to catch along the coast near the hunting reserve.

Accommodations
Coto de caza Maspotón
Granja Arrocera La Cubana, Los Palacios, Pinar del Rio.

We offer 16 air-conditioned rooms in double-cabins accomodation with private baths, along with a restaurant, bar, shop, games room, and poolside bar.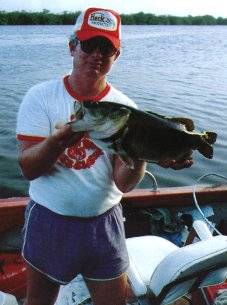 Laguna del Tesoro, Cienaga de Zapata, Matanzas
Treasure Lake is the largest natural lake in Cuba with a surface area of 16km2. It is located in the Ciénaga de Zapata.
Surronded by a marvelous landscape, visitors will be able to fish for trout, bass, achigan six hours a day. Fishing days may be divided into two fishing sessions if the fisherman so desires.
Accommodations
Hotel Guamá
Cienaga de Zapata, Matanzas
Guamá is unique in the Caribbean. It was designed as a floating wooden city built on twelve islets that are connected through a system of canals over quiet waters. It features indigenous architecture that includes precious woods and dried palm tree leaves. Located on the Treasure Lagoon, the Taino Indian village is a natural-sized sculpture complex, depicting Taino Indians at work. Special package offers include day and night entertainment visits to the crocodile-breeding farm at the entrance of the main canal, a country lunch on dry land, and trout fishing complete with gear, access to a speedboat, and a specialized guide service.
There are 44 air-conditioned double, triple and quadruple cabins, each with a private or shared bathroom, refrigerator, TV and radio. Other amenities include a restaurant, grill, two bars, a nightclub, a handicraft shop, a poolside bar, a museum (showcasing authentic objects crafted by the Cuban aboriginal population), acces to national telephone communication system, medical services, row-boat rental, a speed boat to tour the lagoon or visit other facilities, fishing gear, and specialized guide services.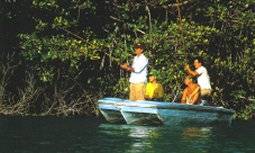 Presa Zaza, Sancti Spiritus
This artificial lake, the largest of its kind in Cuba, is located to the east of Sancti Spiritus and features one of the first villas to be built in the 16th century. The lake holds over one-billion cubic meters of water. It is particularly famous for its abundant trout. Some specimens rank among the top of their class in the world. The record for the biggest trout stands at 16.5 pounds.
Accommodations
Hotel Zaza
Finca San José, km 5, Lago Zaza, Sancti Spíritus.
The Zaza offers 65 air-conditioned rooms, each with a private bathroom, satellite television, clock-radio, safe deposit box, and phone. Other amenties include a restaurant, bar on the road to the hotel, snack bar, lobby bar, cafeteria, disco, swimming pool for children and adults, games room, shops, round-the-clock medical services, parking lot, tourist desk, horseback riding, motorcycles for rent, money exchange desk, laundry, fax, photocopying service, taxis, national and international telephone communication links, fishing gear, seafari to Cayo Tabenque, archery, skeets, boat rides on the lake, volleyball and tennis courts, and hunting gear.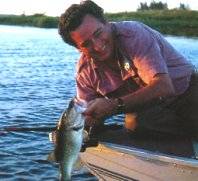 Yariguá, Cienfuegos
Bass and carp can be easily angled in the canal of the Yariguá Hunting Reserve.
Accommodations
Coto de caza Yariguá
Finca Palmaritos, Charcas, Cienfuegos
There are 10 double cabins with private baths located within the game preserve. A restaurant, bar, and shop are also located on site.

Lago la Redonda y Laguna de la Leche, Ciego de Avila
The 4 km2 Redonda lake is located 21 km from Morón, in central Cuba. It features the largest concentration of trout per square kilometer in the country. Its prestige as a trout-fishing paradise was consolidated at the beginning of the 1980s, when a group of American fisherman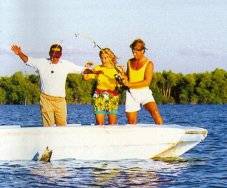 hooked 5,078 trout in only 5 days. Its water is so clear that the fisherman can fully observe the entire catching process.
Accommodation
Coto de caza Morón
Cristobal Colón No. 41, Ciego de Ávila. Telf.: (53)33-5-4563.
Enjoy a stay in a colonial-style house with its 7 air-conditioned rooms, all with private bath, color TV and minibar. We offer a restaurant serving international cuisine, a grill, bar, swimming pool, currency exchange, safety deposit box and nightclub.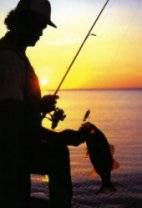 Presas Porvenir, Muñoz y Santa Ana, Camagüey
These reservoirs are located very close to Florida, in Camagüey province. They offer excellent conditions all year round for trouts, bass and achigan fishing sessions may last up to 6 hours. The record for the biggest trout fishing stands at 14.5 pounds.
Accommodations
Coto de caza Florida
Carretera Central, km 2, Florida, Camagiiey


Updated August 20, 2000
Copyright ©2000 USA CUBA TRAVEL