Welcome
About us
Travel tips
FOR
BOOKING
AND
INFORMATION
Contact us!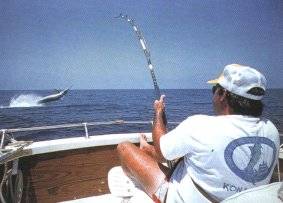 Saltwater fishing
---
Fishing is a very popular sport among Cubans.

The long and narrow shape of the island means that Cubans are always close to the sea, and therefore fishing is a natural part of daily life.

USA CUBA TRAVEL and its partners in Cuba are happy to put at your disposal their vast experience in deep-sea fishing. We are certain that you will be satisfied with your catches, the professional manner in which you are treated and by the excellent fishing conditions.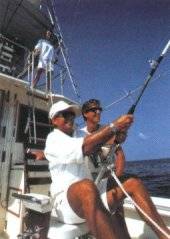 USA CUBA TRAVEL's partners offer good fishing yachts and above all excellent crews. Pilots and sailors all have certificates in compliance with international standards. They are also experienced fishermen, familiar with every angling secrets:
the proper species for each season
the best spots
the most appropriate gear and bait
the ideal boat speed, time of day and technique
In collaboration with our partners in Cuba, you can draw up your own fishing programs: trolling, bottom fishing and/or fly-fishing.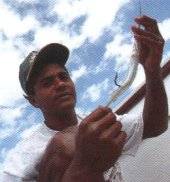 Trolling
The favorite technique of all those who are after the really big ones. Marlins abound in Caribbean waters, so your chances of catching one are excellent.
Bottom fishing
In different seasons, you can catch Jew fish, Snappers, Groupers and others.
Fly fishing
Cuba offers an even wider range of fly-fishing possibilities, so you can catch more species year-round. Bonefish and Tarpon fishing are particularly outstanding.
Cuban fishing companies are now establishing fly-fishing centers in zones located within the immense virgin string of keys surrounding Cuba, where the kinds of fish most sought by fly-fishing afficionados abound. And here's more good news: the first of these centers is already operating south of Cayo Guillermo.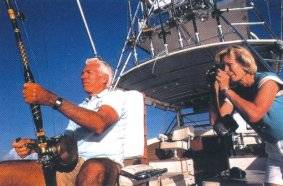 Facilities
Vessels with everything you need
Fishing gear tailor made for the kind of fishing you have chosen
Fishing guides
Competitions
For fishing competitions see our sporting events calendar

Migration cycles
| | |
| --- | --- |
| Barracuda | All year long |
| Bill fish | March, September, October |
| Dolphin | February, March, May, June |
| Marlin (Blue, White, Black) | June, July, August, September |
| Sailfish | May, July |
| Swordfish | January, February |
| Wahoo | November, December, January, February |
Other species have migratory cycles, moving with the marine currents to spawn or to search for food.
Remember
Sailfish, billfish, marlin... the favorite species for deep-sea fishing are more abundant in Cuban waters than anywhere in the world!


Updated August 20, 2000
Copyright ©2000 USA CUBA TRAVEL