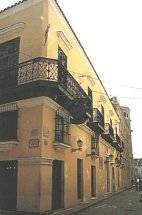 Hostal Valencia
---
Calle oficios #53 esquina a Obrapia

Reservations:
December 15 to May and July 15 to August 30 - 7 weeks in advance
Other Months - 4 weeks in advance

Location:
The Valencia, conveniently located on a very special corner, is just 200 meters from the Plaza de Armas, the place where Valencians traditionally worshipped.

Description:
Originally built as a private home at the end of the 18th century and once the property of Sotolongo, a city councillor, the Hostal Valencia now opens its doors to visitors from far and wide. A carved red roof, balustrades and the wrought iron works of its balconies lend freshness and light all its rooms.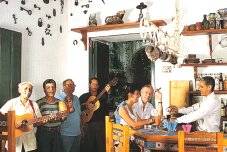 You can hear the best music of the fifties at the Nostalgia Bar. Enjoy the great music of the period, along with boleros performed by prestigious musicians. This is a unique opportunity to offer a toast to your luck, while sipping a " White Sheet", the cocktail of the house.
And there is no finer place to eat paella in all of Havana than in our restaurant, the winner of the top prize at the International Paella Contest in Sueca, Spain, for the past two years.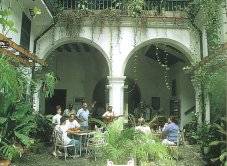 Accommodations:
Nine mini-suites.
Services:
All of the rooms are equipped with color tv, private bathrooms and minibars. The hotel also offers the verry in best Cuban cigars on the first floor at la casa del tabaco.

Updated August 20, 2000
Copyright ©2000 USA CUBA TRAVEL