Welcome
About us
Travel tips
FOR
BOOKING
AND
INFORMATION
Contact us!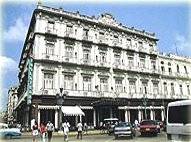 Hotel Inglaterra
---
Paseo del Prado No. 416 e/ San Rafael y San Miguel

Reservations:
December 15 to May and July 15 to August 30 - 3 weeks in advance
Other Months - 2 weeks in advance

Location:
Located in an exceptional setting, in the authentic heart of Havana next to Paseo del Prado, the Parque Central and the Gran Teatro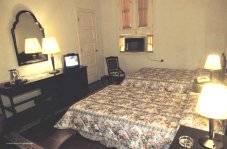 de la Habana, the hotel provides an ideal starting point for discovering the charms of Havana.
Description:
Discovering colonial Havana is an additional pleasure for guests of the Hotel Inglaterra, the oldest hotel in Cuba, which has just celebrated its 120th anniversary. Inaugurated in1875, the Inglaterra is currently one of the oldest and most classic al hotels in the city. The building has been declared a National Monument due to its value as part of Cuba 's heritage. Its beautiful neoclassical façade contrasts with its interior decor, which recreates the atmosphere of the colonial period by feauturing beautiful stained-glass
windows, colorful mosaics, Spanish heraldic symbols, window grills, and intricately worked ceilings. All the charms of the Belle Epoque are present in its comfortable guest rooms and elegant conference halls.
Accommodations:
69 double rooms, 4 single rooms, 10 triple rooms.
Services:
Guests will enjoy both the exclusive Colonial Restaurant and La Sevillana, a unique bar and coffee shop. On the highest floor, a terrace bar and grill offers a magnificient view of the city.

Updated August 20, 2000
Copyright ©2000 USA CUBA TRAVEL