Welcome
About us
Travel tips
FOR
BOOKING
AND
INFORMATION
Contact us!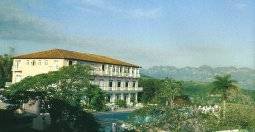 Hotel Los Jazmines
---
Carretera de Viñales, km 25, Pinar del Río province.

Reservations:
December 15 to May and July 15 to
August 30 - 5 weeks in advance
Other Months - 3 weeks in advance

Location:
Los Jazmines hotel is located in the heart of Viñales Valley.

Description:
Featuring a splendid view over the Viñales Valley, the hotel is the gateway to ecotourism, including flora and fauna watching, tours of caverns and underwater rivers, an excursion to the Los Acuaticos Community, and visits to peasant communities and places of architectural interest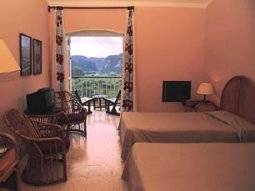 typical combinations of columns, ironwork, arches and stained-glass windows. Around-the-clock entertainment is also guaranteed.
Services:
The Los Jazmines offers 62 air-conditioned rooms distributed in two hotel blocks and 16 cabanas, all with private bathroom, phone and satellite television. Other attractions include a restaurant, two bars, a snack bar, a disco, a games room, a swimming pool, two rooms (for meetings, conferences, cocktail parties and luncheons), medical services, a shop, a parking lot, a tourist desk, taxis, horseback riding, field volleyball, bowling and archery.
RETURN TO HAVANA

| | | |
| --- | --- | --- |
| Packages | Hotels | Travel Guide |
Updated August 20, 2000
Copyright ©2000 USA CUBA TRAVEL