Welcome
About us
Travel tips
FOR
BOOKING
AND
INFORMATION
Contact us!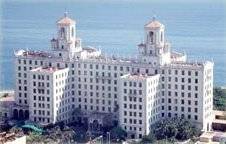 Hotel Nacional
---
Calle 21 & O, Vedado, Ciudad de La Habana

Reservations:
December 15 to May and July 15 to August 30 - 3 weeks in advance
Other Months - 2 weeks in advance

Location:
This hotel is located on the ocean front in downtown Havana, only 5 minutes by car from Old Havana.

Description:
The Nacional, the prized gem of the Cuban hotel industry, is a mythical vantage point in the heart of Havana, the capital of Cuba. Ever since the Nacional opened its doors on December 30, 1930, it has been one of the classiest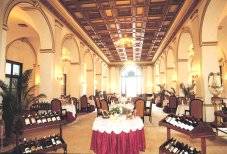 hotels in Havana. It still offers luxury, elegance, and first-class services even after six decades of existence.
Surrounded by lovely gardens, it is wonderfully located on a promontory right next to Havana's celebrated Malecón. The hotel's magnificent location serves to showcase one of the most striking views of Greater Havana, and the Nacional is just a few minutes away from famous beaches such as Santa María del Mar.
Accommodations:
312 double rooms, 32 single rooms, 58 junior suites, 11 triple rooms, 25 suites, 1 presidential suite. Guests at the Hotel Nacional enjoy splendid comfortable accomodations.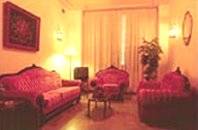 Services:
Special service areas such as the Apartment of the Republic and the Executive Floor are ideal for business people, due to the many and varied facilities they have to offer. The Nacional's spacious conference rooms are suitably equipped for professional events. Among its many charms you can dicover the Cabaret Parisian which, along with the Tropicana, is a must for those wishing to make the most of those warm Havana nights. The Nacional is the Gran Caribe Group's trademark hotel.

Updated August 20, 2000
Copyright ©2000 USA CUBA TRAVEL