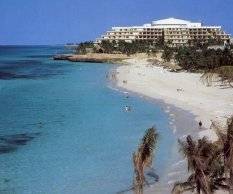 Melia Varadero Beach & Incentive Resort
---
Crta. de las Morlas - Varadero - Cuba
Tel.: (53-5) 667 013 Fax: (53-5) 667 012

Location:
Alongside Varadero beach. 35 km from Varadero airport and 140 km from Havana airport. 8 km from the town of Varadero next to the Varadero Shopping Centre and Convention Centre.



Accommodations:
455 standard double rooms. 28 superior rooms and 7 suites. Minibar. Satellite TV. 24-hour room service.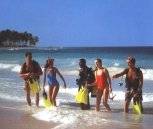 Services:
Breakfast buffet. Buffet-restaurant. Seafood restaurant. Cuban restaurant. Beach barbecue. 24-hour cafeteria. Lobby bar. Show bar. Pool bar. Hairdresser. Massage. Gymnasium. Boutiques. Souvenir shop. Jewellers. Seven meeting and banquet halls that can accomodate up to 450 guests. Daytime and evening entertainment program.
Updated August 20, 2000
Copyright ©2000 USA CUBA TRAVEL