Welcome
About us
Travel tips
FOR
BOOKING
AND
INFORMATION
Contact us!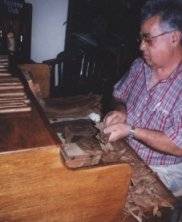 Day trip & tours
Ciego de Avila - Cayo Coco - Cayo Guillermo
Regions of Cuba - Travel Guide
---
Catamaran cruise
All aboard! Join us for an exciting adventure at sea. A perfect combination of splendid snorkeling, a beautiful beach and turquoise water. On-board lunch is provided, including fish, shrimp, chicken, rice, vegetables and fruit salad. Open bar all day long, including rum, local beer, soft drinks and water.
(8:30am - 5:00pm or 1:00pm - 6:30pm)

Boqueron Jeep - horse safari
Get ready for an unforgettable day! Drive across the Cuban countryside and discover untouched nature. Ride 8 km into the mountains on horseback. Enjoy a typical Cuban lunch and swim in a river under a waterfall. On your way back, visit a tobacco factory. What to bring? You will need a camera, extra rolls of film, a bathing suit, a beach towel, pants, comfortable shoes and some spending money!
(8:30am - 6:30pm)

Ciego de Avila
Witness culture, art, industry and Cuban traditions all on the same day with a visit to this enchanting town. See a music and art school, a typical Cuban market, a cigar factory and a local bar.

Havana overnight
Trip by bus to the city of Havana. Tour of the city: Colón Cemetery and the National Capitol. Tropicana show. Accommodations, dinner and lunch at the capital city.
Trinidad
Visit one of the oldest cities in Cuba, colonial Trinidad. Be charmed by its historical atmosphere, complete with 16th century cobblestone streets, and its beautiful setting between the mountains and the sea. Go back in time at the Romantic Museum, visit a tobacco workshop and much more... You may travel by bus or by plane. Lunch is included! What to bring? Your passport, camera, extra rolls of film, comfortable shoes, a hat and spending money!
(7:30am - 7:30pm)
Trinidad overnight
Tour around the city: museums, ceramic workshop, cigar factory, Torre Iznaga. Visit to Topes de Collantes. Evening show. Accommodations, lunch and dinner included (By bus).
Minor central tour
Through the central part of the island: trip by bus to the cities of Trinidad, Cienfuegos and Santa Clara. Visit to Guamá, the alligator-breeding centre, and to the Taíno village. Accommodations, dinner and lunch included.
Lagos de Mayajigua
Trip by plane over the lake, thermal waters, horseback riding, boats and caves. Traditional lunch.


Updated August 20, 2000
Copyright ©2000 USA CUBA TRAVEL