Welcome
About us
Travel tips
FOR
BOOKING
AND
INFORMATION
Contact us!
More than 300 natural beaches
Overview of Cuba - Travel Guide
---
Nature has provided Cuba with exceptional physical features that make it an ideal tourist destination. The biggest attraction is probably its 5,745 km (3,570 miles) coastline, characterized by the beach of your dreams.

Some of them, like Varadero, have sandy shores extending for more than 20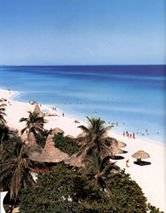 km (13 miles). Many others are even larger than the most famous beaches in the world. There are even tiny ones, which are havens for intimacy seekers and explorers.
Moreover, what can we say about the various colors and textures of Cuban beach sand! White and fine-grained as powdered talc (typical of the keys), formed by the age-old action of the waves pounding against the coral reefs... Golden, made up of more coarse grains, which can be described as tinged by the sun itself... Dark and tanned like the skin of the beauties that adorn them... Covered with cobblestones like polished jewels and lazily resting at the foot of green mountains!
In the gleaming waters, featuring incredible shades ranging from green to blue and an average temperature of 26 degrees Celsius (79O F), you will discover
the best possible swimming conditions. You may also try out many seaside sports. Above all, you will enjoy the transparent Cuban waters for scuba diving or snorkeling and the rich nature of the country's coral barrier reefs, which can be compared to Australia's Great Barrier Reef. Cuba's beach season lasts all year long, a never-ending summer from January to December.


Updated August 20, 2000
Copyright ©2000 USA CUBA TRAVEL