Welcome
About us
Travel tips
FOR
BOOKING
AND
INFORMATION
Contact us!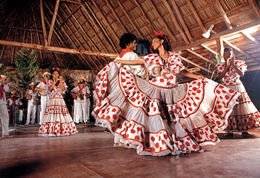 Interior cities
Overview of Cuba - Travel Guide
---
In the interior of the island, Cuban cities are characterized by their symbiotic relationship with the plains, the green hills, certain immense land holdings, and farmers' fields. Some are important economic, industrial and educational centers, such as Pinar del Rio, Santa Clara, Remedies, Ciego de Avila, Morón, Camaguey, Las Tunas, Holguin, and Guantanamo.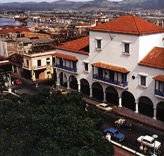 Pinar del Rio is the center of the most famous and rich tobacco-producing region of Cuba. It features one of the most beautiful theaters on the island, the Milan.
Remedios, one of Cuba's oldest cities, was originally founded as a place to escape from constant corsair and pirate attacks. Its current residents celebrate the famous annual parrandas (binges), or typical
popular feasts. Neighbors from Remedios, in search of renewed protection for their lives and property, subsequently founded the city of Santa Clara.
Refreshed by the breezes that blow in from the Capiro Hills, Santa Clara boasts rich marble quarries, making marble works a major industry in this region. Its historic significance during the wars of independence and its role in the victory of the Revolution have indelibly marked its history. Santa Clara is the central link in Cuba's ground communication network and is the home of an important university, which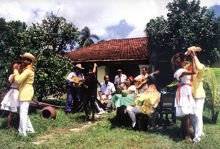 protects the old traditions preserved by successive generations of scholars and important cultural figures.
Ciego de Avila and Morón are proudly representative of an outstanding agricultural and cattle-raising region. Camaguey, the legendary city, a cradle of heroes, writers and artists (such as Ignacio Agramonte, Gertrudis Gómez de Avellaneda, Nicolás Guillén, and Fidelio Ponce) features a cultural, architectural,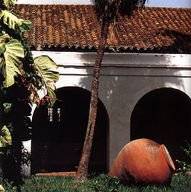 and historic heritage that is very much worth visiting.
Las Tunas, the land of El Cucalambé, the king of the décima (Cuban Creole ten-verse stanzas) and one of Cuban literature's most outstanding figures, wields an important agricultural and economic weight. Holguin is the provincial capital of a region that is characterized by important nickel reserves and industrial centers. The city of the Mayabe Valley offers Cuba's second largest opera company and many colorful traditions, such as the Romerías de Mayo (May Picnics). Guantánamo is famous for having inspired the song Guantanamera. In addition, it is well known for its natural beauty, its mountain coffee groves, and its magnificent bay.


Updated August 20, 2000
Copyright ©2000 USA CUBA TRAVEL